"The chef is very attentive and the food was incredible. We got a whole lot of class and attention for a very reasonable price." -christensen51, The Knot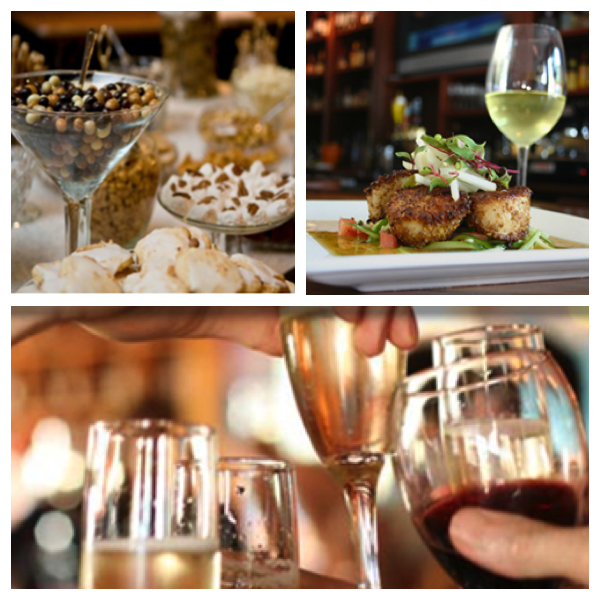 Choosing your wedding menu takes careful consideration. Making 300 people happy is no small feat, especially when you take into account dietary restrictions, allergies and your third cousin's latest fad diet. That's why the Bluestone has in-house wedding and event catering with our very own Executive Chef. Our menu is just the starting place for your creativity. You can work one-on-one with our chef to customize your wedding menu to any of your guests' needs.
Private tastings for your wedding menu.
Choosing the perfect hors d'oeuvres, dinner and desserts for an entire wedding guest list can seem overwhelming. When you schedule your private tasting at the Bluestone, we will make your decision easy, and you will experience our mouthwatering selections firsthand. Having our own in-house Executive Chef gives you the flexibility and customization you need in a Columbus wedding venue, ensuring that your meal is as perfect as your day.
Our tastings are designed to give you the opportunity to sample our cuisine and to aid in the decision-making process, before you book your event. Each sampling will allow you to choose up to six hors d'oeuvres, or three hors d'oeuvres and two main entrees to assist in determining your perfect wedding menu. You also have the option to have an extensive tasting of all menu options and courses– just contact us and one of our event coordinators will get you started.
The hors d'oeuvres.
Choose from hors d'oeuvres displays like the Proscioutto Wrapped Asparagus, Duck Medallions, Whole Poached Salmon and Miniature Beef Wellingtons. We also offer over two dozen hot or cold hors d'oeuvres, from Brie and Rasperry Canapé and Crispy Coconut Shrimp Sticks, to Crab Cakes and Grilled Cheese Shooters. With options like these, you might want to invite some extra guests just to have an excuse to order more food.
The dinner.
The Bluestone's kitchen offers both buffet and plated dinners. Choose from options like Supreme Chicken Picatta, Mango Barbecue Mahi, Baked Gnocchi and Strawberry Seabass to make your menu as perfect as your day.
Unique dinner stations.
It doesn't have to begin and end with a traditional dinner. We've also designed special event Action Stations, which can accompany your buffet selections, main dishes, or be set up independently to add some flair to your menu. Our favorites are the Italian Feast station, Mashed Potato Martini station and the Petite Gourmet Grilled Burger Bar. But come on in and talk with our chef about your dream station – at the Bluestone, we want your wedding dinner experience to be unforgettable and uniquely yours!
The dessert and finishing touches.
For dessert, you can't go wrong with our Colossal Apple Pie, Deluxe Miniature Pastry Assortment and Creme Brulee Cheesecake. And there are many more dessert options to fit anyone's vision. S'more station, anyone?

Alcoholic beverage services.
The Bluestone provides a variety of full-service bars for you to choose from to keep your guests hydrated. From non-alcoholic options to beer and wine, to Hosted Bar Service options from Well to Top Shelf, you can choose whichever bar service best fits your dream reception and budget. We also have a la carte beverage options, like champagne toasts, wine service with dinner, coffee, iced tea, and specialty beverages, too.
Book a tour today.
When you book a wedding tour of the Bluestone, you'll not only have an opportunity to see our amazing space, but also to discuss our menu with your Wedding Coordinator. Call (614) 884-4646 now to book your tour.
[blog_in_blog category_id=8 num=5]