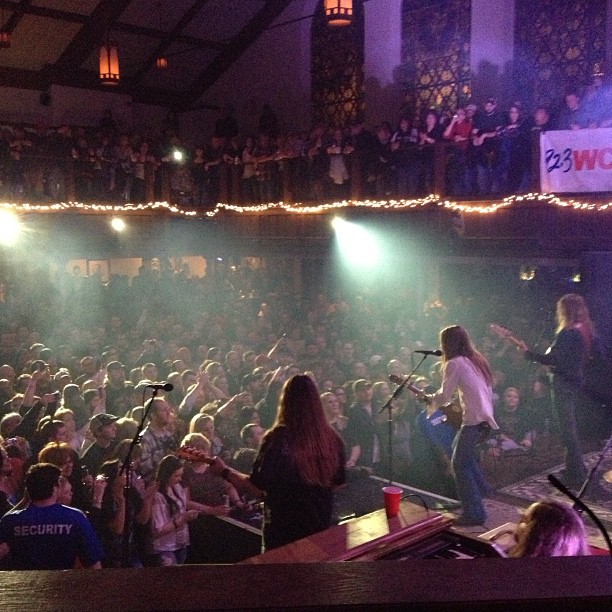 At the Bluestone, we're all about live music and an unforgettable concert experience. We scout out your favorite acts and work hard to bring you a great show. Featuring local and national artists, from country and electronic to R&B and hip hop, we pride ourselves on premier shows in a unique setting. This isn't just another stage– it's an experience. Check out our upcoming shows to see what's next.
"Hands down the best venue for a concert. The prices are so affordable. Seating is great, (and) the staff is so helpful." –Kris O., yelp.com
A Columbus music venue with character.
A mix of old and new, the Bluestone is a 115-year-old church transformed into an open hardwood floor, central stage and wrap-around balcony, so wherever you stand, you're part of the show. Floor-to-ceiling stained glass windows, cathedral ceilings, and three levels of original art and concert posters complete the experience. If the history of the place doesn't intrigue you, the century-old acoustics will.
And there's not a bad seat in the house. While the Sanctuary gives you the front row experience with plenty of room to dance, our Loft puts you just above eye-level with the performer. The Bluestone is a large space, but the two levels combined offer a surprisingly intimate concert experience.
Eat, drink and be merry.
With seven bars inside and out, you'll never be empty handed and, for some shows, you might even find us grilling on the Patio.
We've been told that artists make a point of stopping at the Bluestone after a fellow singer raves about the experience here. Maybe it's our genuine staff, maybe it's our one-of-a-kind venue or maybe it's the awesome Columbus crowd that keeps our favorite artists coming back for more. We'd say it's all three, but we'll let you decide.
Whether you're looking for your favorite country band or a killer DJ, check our schedule and stay tuned– we're announcing new live music shows in Columbus all the time.