"My husband and I fell in love with the Bluestone on our first visit. It was perfect parts rockstar for him and historic building/church for me." -lisasteck, The Knot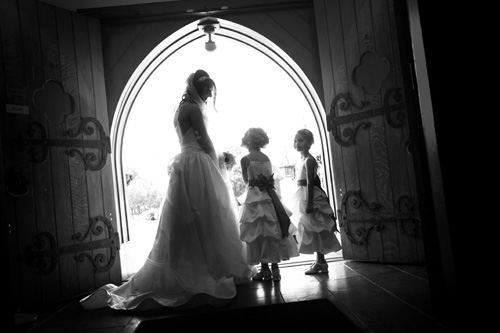 At the Bluestone, your wedding day is all about you. We know this is your day and you deserve to feel confident in every element, from the ceremony and menu to the music and cocktails. There's nothing we love more than turning your dream into an unforgettable experience. Our event planners and staff take care of even the tiniest of details– so you don't have to. This is what we do.
Planning your wedding at the Bluestone.
Start by signing up for a personal tour of our 115-year-old converted church. We hope you'll fall in love with its soaring stained glass windows, unique art, private Bridal Suite, open loft and elegant patio. Next, sit down with your personal Wedding Coordinator and discuss every detail. Want a completely customized menu? Done. Photo booth? Sure thing. Pinterest got you hooked? Share it with us. We can't wait to get started.
The wedding ceremony.
Your wedding ceremony will take place in the grand yet intimate Sanctuary, where theatre seating accommodates up to 300 of your family and friends. The stage is the center of it all, where you will take your vows and first steps as husband and wife.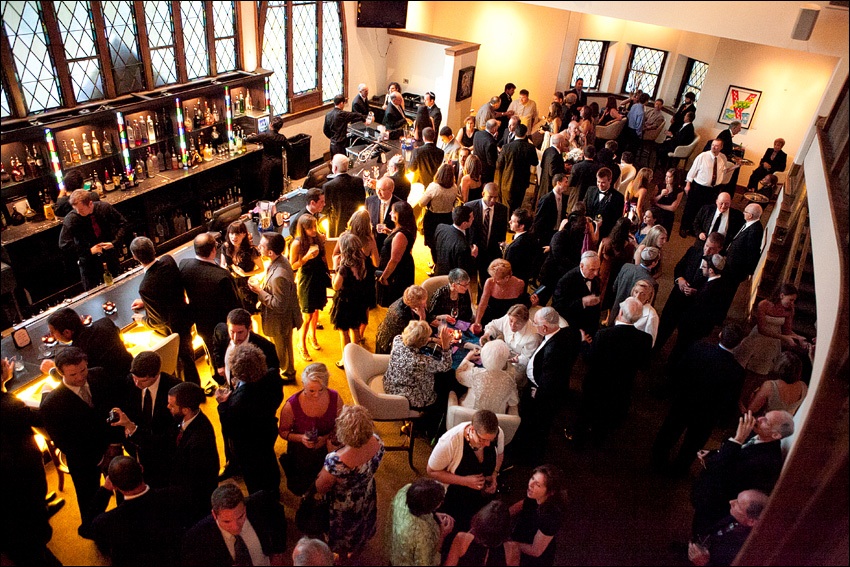 Cocktail hour.
After the ceremony, guests are ushered to a cocktail hour in the Great Room, the Patio or both if you prefer! Inside or outside in the open air, guests enjoy either butler-passed or displayed hors d'oeuvres. We'll pump music throughout the entire venue, including the Patio, with your personalized playlist, while our in-house skilled staff handles the "flip" to reception inside. And don't worry, we'll work with you on every detail beforehand, so we'll know just how you want your reception to look when we are finished!
"Our wedding at the Bluestone was better than I ever imagined possible. Everything came together so perfectly, from the food to the setup of the venue itself." -stimm85, The Knot
The reception.
Your wedding reception is where the Bluestone staff really gets excited. Choose from options like a seated dinner or a modern cocktail reception, and rely on our accomplished staff to meet all of your needs on your special day.
For a seated dinner, the Bluestone can accommodate up to 300 guests with tables surrounding the dance floor in the Sanctuary as well as upstairs in the Loft, overlooking the entire scene. The in-the-round perspective of this set-up ensures that each seat is the best in the house, with an intimate view of every toast and first dance. This intimate feature of the church, complete with a backdrop of floor-to-ceiling stained glass windows, is one of the many romantic details that make the Bluestone truly unique. You'll have to see it to believe it.
If you're looking for a fun and casual reception with up to 500 of your closest friends and family, then the Bluestone spin on the modern cocktail reception is the route for you. Swap out formal seating arrangements for tall cocktail style tables, strategically arranged chairs and up to seven open bars and you'll have plenty of room for mingling and dancing. And with no time limits or pre-set time blocks for your reception, your uncle can tear up the dance floor all night.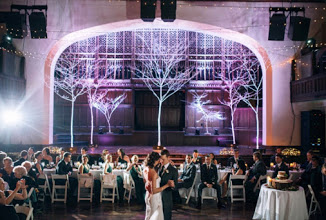 The entertainment.
When it comes to entertainment, the Bluestone is a natural. As a concert venue, we have best-in-class audio visual equipment for your selected live entertainment or DJ – and if we don't have it, we'll get it for you. Your entertainment will set up in the Sanctuary and the tunes will pump throughout all three levels, including cocktail areas and the Patio.
Special effects for your special day.
Our 20-foot projection screen can display slideshows and videos while seven TVs sprinkled throughout the whole venue let your guests follow along. And we can create whatever level of drama you like with club lighting and portable LEDs for uplighting. Looking for a special effect to make your wedding stand out? When you book your tour to explore the space, we can start talking about just how much is possible for your wedding at the Bluestone.
The Bridal Suite and Groom's Dressing Room.
Our job is to help you make a day of it. That's why you have access to the entire building all day long when you host your Ceremony and Wedding Reception with us. Full access, just for you and your wedding party. The Bridal Suite, or the Salon, gives the bridal party complete privacy, while still being just steps from the Sanctuary. No need to deal with the hassle of running around Columbus if you don't want to – bring your makeup artist and hairstylist, have lunch on our comfy couches and get ready for your big day right here at the Bluestone.
The Underground gives the groom and groomsmen a completely separate space to prepare for the day. With a private bathroom and the entire basement to themselves, the men can get dressed, eat and mentally prepare for the big day. And they're sure to appreciate the Instagram-worthy and aptly named Graffiti Room.
"At the end of the process I felt like I was talking to another friend about the wedding plans, not a venue coordinator… Hands down The Bluestone is fabulous, I would not have wanted my reception anywhere else." -brittanyandsam12, The Knot
The Wedding Coordinators.
Our wedding and event coordinators have years of experience in executing picture perfect weddings. They'll put you right at ease from the minute you step through the door for your initial tour of the Bluestone. You'll see every corner of our space, hear answers to your every question, and we will put together a customized proposal just for you. When it comes to pre-planning and the logistics of your wedding day, our talented staff will be there every step of the way, ensuring your day goes just the way you planned so you can focus on the celebration.
Want to book a tour? Call (614) 884-4646
[blog_in_blog category_id=8 num=5]